Posted by loseweight | Tagged as: obesity
Morbidly obese Robert Gibbs, a 23 year old resident of Livermore, CA posted a three minute long video on Youtube as a last ditch attempt to save his life before literally eating himself to death.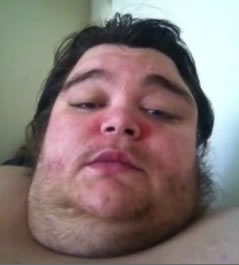 The plea for help by the young man who weighs somewhere between 600 and 700 pounds was seen by millions of viewers after he posted it on Friday, the day before his birthday. Dozens of people responded by sending video replies with tips and advice to help him lose weight. His plight was picked up by the Dr Phil Show and a filmed interview has been scheduled to take place at Mr Gibbs home today.
In an emotional cry for help, Mr Gibbs spoke of how he had become so heavy that he could not even stand up for more than a few moments and he simply did not know what to do. He asked for suggestions and for anyone to come forward with advice on how he could lose weight and have a chance to see his niece and new nephew grow up. On the video, he said:
"I'm making this video because I don't know what else to do. For everyone who is just going to make fun of me I really don't care. It doesn't matter. This is my last chance, my last hope, one of them at least."
Mr Gibbs suffers from diabetes and has sores covering his body due in some part to his inability to be fully mobile and perform basic personal hygiene. He spends all day watching the television.
Opinion: While this is certainly a sad case of a young man who has grown in weight to such proportions as to render him almost immobile and classed as morbidly obese, there are lessons to be learned. It doesn't take a great deal of intelligence to figure out that this man only got this way because he lacked the knowledge, desire or ability to look after his own health properly.
A person can only gain so much weight by overeating to a massive extent while doing little or no exercise. Mr Gibbs even states that he spends all day sitting down watching television.
The painful lesson here is that if you want to enjoy your life to the fullest that you are capable of, then you have to look after your health and make it your number one priority. Don't sit around all day watching the TV and munching your way through so much food. You really do have to get up off your behind, get active and DO SOMETHING! Like maybe start by throwing out the TV set…