If you're looking for a high-tech gadget that can track your weight loss efforts in more ways than you thought were possible, the BodyMedia Fit is a pretty good option.

There is growing interest in wearable body monitoring gadgets from people that are interested in how they're doing health-wise.
GoWear Fit Lifestyle and Calorie Management System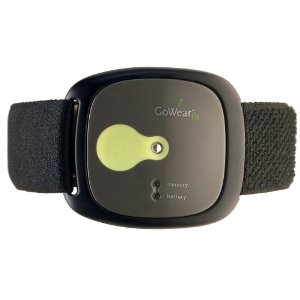 This fat loss gadget is designed to keep track of everything you do during the day and night.

That means it is keeping tabs on what you're doing, from working out to the calories you are eating to how much and how well you are sleeping.

You can keep track of everything online to see how you are doing and which areas need to be adjusted up or down to make what it is you're doing better.

The BodyMedia Fit tracks 9000 separate pieces of information, with the armband monitoring all your activities.

The device will tell you exactly how many calories you are consuming each day along with how many calories you are burning through the exercise you are (or are not) doing. One great feature is the nutritional information you can obtain about foods that is stored in the BodyMedia database.

It gives a breakdown on the daily totals of each nutrient, a feature that helps monitor important things such as sugar consumption. The database is however limited to the more commonly available foods, so there is little in the way of info on ethnic foods or on supermarket brands.

You will need to enter your own information on foods you eat most into the personal area of the database, labeled: "My Foods." Once done, you are able to easily select any item from your own list of foods you eat most frequently, making the tracking of calories easy and fast.
GoWear Fit Display Device
The website you can log into that syncs to the device is easy to navigate, making your own personal weight tracking a breeze.

It works on PC or Mac, although there is not yet any mobile app such as iPhone or Android etc, which would be useful for tracking and entering data whilst on the move. Similarly, there is no check for water intake and use, which is another important factor in losing weight.

What does it all cost?

Well, it's not cheap, as the armband is priced at the high end of fitness devices (although you can currently get a discount at Amazon). That's not all, as you'll also need to find a small monthly subscription to gain access to the website.

A display unit is also available for an extra cost (again there is a discount available at Amazon) that will enable you to do real time tracking of your stats. You will need to shop around online to get the best deal but it is well worth checking out Amazon for their prices and free shipping deals.

Wearing a fitness and health tracking device can be a great idea for anyone who wants to know how a certain fitness or weight loss regimen is working out for them on a day by day basis. Just remember to look up from the little screen every now and then to make sure what you're putting on your plate is the right food!

[BACK TO TOP]

Posted on Mon, 27 Sep 2010 in News | 1 Comments