If you are not "eating your greens", then you might want to rethink that strategy if you want to improve your health and avoid cardiovascular disease and type 2 diabetes.

According to a report in the British Medical Journal published yesterday (20th August) the findings of a systematic review and meta-analysis show that eating green, leafy vegetables may lower your risk of developing type 2 diabetes.
Reducing Cardiovascular Disease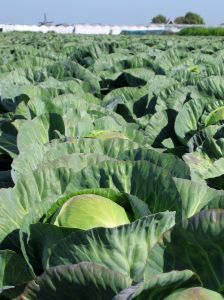 While eating green vegetables as part of a healthy diet is recommended by many leading dietitians, it seems that the items on our plates that children often shun the most are the ones that will do us the most good for a variety of reasons. Now it has been shown that one of those reasons is reducing our risk of type 2 diabetes.

Patrice Carter and colleagues, from University of Leicester, UK write,


"High intake of fruit and vegetables has been associated with a reduced incidence of cancer and cardiovascular disease."
She adds,
"Diabetes is a strong independent risk factor for cardiovascular disease, and often the conditions exist together, sharing common modifiable risk factors. As yet no firm conclusions have been made as to whether increasing intake of fruit and vegetables can decrease the risk of type 2 diabetes itself, given the abundance of conflicting evidence within the literature."
Fruit and Vegetables
The reviewers searched through EMBASE, MEDLINE, CINAHL, the Cochrane Library and the British Nursing Index for terms that involved diabetes, prediabetes, vegetables and fruit in order to determine the independent effects that the consumption of fruit and vegetable had on the incidence of type 2 diabetes. Out of 6 studies that met the selection criteria, with over 220,000 participants enrolled, 4 of the studies also provided additional separate data with regards to the consumption of green leafy vegetables.

Based on summary estimates, it was demonstrated that a greater consumption of this specific group of vegetables was associated with a 14 percent reduction in the risk for developing type 2 diabetes. Sounds like good news for those on a vegetarian diet plan! However, increasing intake of all vegetables, fruit, or a combination of fruit and vegetables did not appear to significantly reduce that same risk.

The authors pf the study conclude that:


"Our results support the evidence that 'foods' rather than isolated components such as antioxidants are beneficial for health,"
"Results from several supplement trials have produced disappointing results for prevention of disease, in contrast with epidemiological evidence. Further investigation is warranted to understand the mechanisms involved in the proposed relation between green leafy vegetables and risk of type 2 diabetes."
In then accompanying editorial, both Dagfinn Aune, from Imperial College London and Jim Mann, from the University of Otago, New Zealand, are cautious about these results, due to the limited number of studies conducted. They added the warning that there should still be emphasis on the increase of overall fruit and vegetable consumption.
However, existing dietary recommendations for including five portions of fruit and vegetables each day should include leafy, green vegetables.
[BACK TO TOP]
Posted on

Sat, 21 Aug 2010

in News |

0 Comments