With an on-going battle with her weight throughout her career, Kirsty Alley is back on the downward slide to a lighter body again by losing over 50 pounds since January this year.

She is undeniably delighted with her progress so far.
Fighting the Fight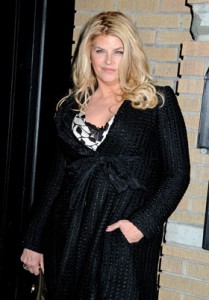 The former star of the cult TV comedy series, Cheers has fought an ongoing struggle with her weight fluctuations for many years.

She even chronicled this battle on The Big Life, her A&E reality show. After making a vow at the beginning of the year to shed a lot of weight and slim down, the actress who is 59 years old has revealed a pretty dramatic result.

Alley is so pleased with her result that she wrote on her Twitter page on Wednesday,


"I've lost over 50 lbs...and I'm having the time of my of my life...30 more to go"
For three years up until 2007, Alley served as a spokeswoman for
the popular diet company
, Jenny Craig. In 2006, Alley boasted about losing 75lbs on the Jenny Craig diet to Oprah Winfrey.
After this, she admitted to gaining back all of the 75 pounds that she managed to lose when she was with Jenny Craig, and then an additional 10 pounds on top. As a way of self mockery, she portrayed her up and down weight problem by starring in
Fat Actress
.
Last year she revealed that she had let herself gain weight, bulking up to 230 pounds since she left Jenny Craig to form her own diet company.
Organic Liaison
Earlier in the year, Kirstie launched the weight loss program known as Organic Liaison. Its goal is to "liaise" with people to get them to move away from from what has become a conventional way of eating to take on more healthy, organic ones. Back in February, she said,


"My two biggest hurdles in weight loss and maintenance are cravings and too big of an appetite. I wanted my line to obliterate these hurdles. For me, it has!"
[BACK TO TOP]
Posted on

Fri, 24 Sep 2010

in News |

2 Comments