A new study into the weight loss properties of acupuncture has given hope to many obese adults as findings show it can be effective as a treatment that works.

People looking for alternative methods of shedding a lot of excess weight are turning to this healing art as a potential means of achieving their goals.
How Does Acupuncture Cause Weight Loss?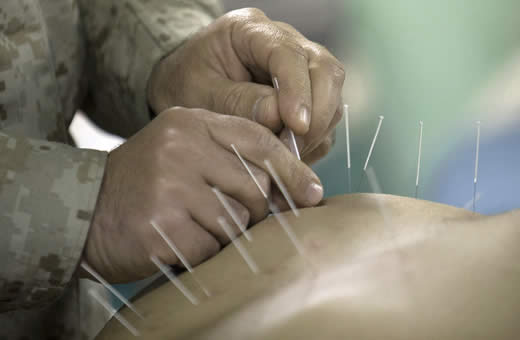 Acupuncture is an ancient Chinese method of healing using tiny needles that are inserted into the skin at various acu-pressure points in the body depending upon the nature of the illness and help to re-align the body's natural flow of energy to help it to cure itself.

When used to help people lose weight, a similar process is created where obesity is perceived as the "illness" which the body then works to cure itself of with the help of this re-aligning of energy.

As is often discovered by the practitioner, the body's energy has become misaligned in some way and this is the method of bringing the body back into alignment.

The formal study was undertaken by Doctor of Acupuncture and Oriental Medicine, Dr. Edward Lamadrid. His findings revealed that nearly all of those that participated in the study lost weight over a period of six weeks.

What's more, at least half of those participants actually continued losing fat after the acupuncture treatment were discontinued. They are expected to be presented by Dr. Lamadrid presented the results of this study at the Pacific Symposium at the Catamaran Resort Hotel and Spa in San Diego on November 4.
Groundbreaking Study
The groundbreaking study, which Dr. Lamadrid titled "The Effects of Acupuncture on Weight-Loss in Over-Weight and Obese Adults Over 24 Years Old," was seen as a huge success and may be a viable option for obese patients where other methods of losing fat had failed. He said of the study's results,


"What's particularly interesting and somewhat shocking about the study's findings is that weight loss occurred across the board without much exercise or dieting, something everyone believes is essential to trimming down. I certainly don't want to discount the importance of healthy habits such as good fitness and eating nutritionally, but this study confirms that acupuncture is a viable tool for successful weight loss."
There are several recognized alternative therapies that are available to those that wish to follow a natural path to healing and making improvements in many areas of their health. While a large percentage of positive results come from anecdotal evidence, there are a growing number of scientifically based studies that are showing that these results are indeed repeatable in formal studies.
Note: When researching local acupuncturists, make sure they are qualified and and certified to practice this form of alternative healing. Also, ensure they belong to a verifiable professional body that can vouch for their member's professional conduct and qualifications.
[BACK TO TOP]
Posted on

Fri, 05 Nov 2010

in News |

1 Comments