People looking for a great fitness program can read this review about Jillian Michaels and her weight loss and fitness workout schedules, DVDs, diets and related products to discover why it could be the one for you.

In fact, if you are serious about losing weight and getting into shape, then this review is for you!

For anyone who takes an interest in TV trainers and weight loss shows, the name Jillian Michaels is pretty much a household name. She's associated with really tough workouts and training schedules designed to get lazy people off their backsides and working up a sweat!

Well, this is where you will get to see more about the fitness expert, life coach, TV fitness guru and hardball trainer on Losing It with Jillian Michaels and The Biggest Loser as well as guest spots on a variety of talk shows, interest shows and popular interviews.

Here's a look at some of her popular fitness and weight loss resources:
Jillian Michaels 30 Day Shred Reviews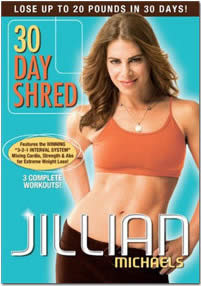 This is Jillian's hugely popular DVD training course that can have you losing as much as 20 pounds inside 30 days. The 30 Day Shred DVD comes with 3 circuit-training workouts that run for 20 minutes each. When you follow these workouts you will burn a large amount of calories while building stronger, leaner muscle.

The workouts are based on Jillian's own brand of 3-2-1 Strength/Cardio/Ab training circuit. That translates into 3 minutes doing strength work, 2 minutes doing cardio work and a minute doing ab work.

Also included is Jillian's brief warm-up session as well as her all important cool down stretching session.

The idea is to follow this program for at least 30 days to get the most from it. You will be pleasantly surprised at what you can achieve in that time as long as you stick with it!
Jillian Michaels DVD Collection
There is a big and ever growing collection of great fitness, workout, yoga and weight loss DVDs available from Jillian's website that you can get to by clicking the big image banner at the top of this page. Here is a rundown of the DVDs:
Ripped In 30 Reviews

After the success of Jillian's Shredded in 30 Days, it's time to move up a notch and get ripped! This DVD program is set out in four separate 24-minute long workouts.

They are based on her popular 3-2-1 interval system that has helped so many people to lose weight and get a great looking body. It mixes strength, cardio and abs workouts in short intervals so almost anyone can easily do them and see great results.

The four workouts represent four workout level, with the first being an more easy level then advancing up to level 4 which is much tougher but still very doable because you work your way up to it gradually. There is also a great, complimentary 30-day diet plan to go with the workout program so that you can be sure to be eating healthily to really boost your body's ability to burn the fat and build lean muscle.

In fact, the whole program is designed for getting you into the best physical shape you have ever been in!
6 Week Six-Pack Reviews

This is the DVD set where you can forget all about doing a bunch of boring sit-ups! This is Jillian's ab-shredding system that is designed to give you a chiseled midsection.

It's done by working with her powerful combo of core-focused cardio circuits and her famous ab-toning exercises.

This DVD series comes as two 30-minute long workouts along with warm-up instructions and Jillian's specialty cooldown stretching exercises. You see incredible results courtesy of Jillian's unique methods!
Lose Weight with Jillian Michaels
The upshot of this article is to show you that you can lose weight and greatly improve your fitness levels when you take your guidance and tutoring from Jillian. She is one the best workout trainers around right now and to have her in your living room with you as your personal trainer while you work on getting fit and slim would be the best thing ever.

As that is probably not going to happen, the next best thing is to have Jillian on your TV set showing you exactly how to lose the flab and tighten up those loose bits by following her professional instruction.

As far as fitness and weight loss resources go, you would be hard pressed to find a more motivational instructor and trainer than Jillian. You can find out more about Jillian and her amazing fitness instructional methods as well as get hold of any one of her DVD training systems as well as read any of her books that you want to just by visiting her official website.

There you can follow the links to whatever product takes your interest. To do that, just click the image below and you'll be transferred right there where your weight loss and fitness journey can begin for real!

[BACK TO TOP]

Posted on Tue, 10 May 2011 in Weight Loss Resources | 1 Comments