The latest craze diet to hit the stores is Dr Moreno's 17 Day Diet which promises that you can lose weight fast and keep it off for life!

From where I'm standing, that sounds very appealing, even if it does appear a touch on the promotionally hyped side to sell more of the product. Let's see if it does what it says it can do.
How Accurate are the Claims?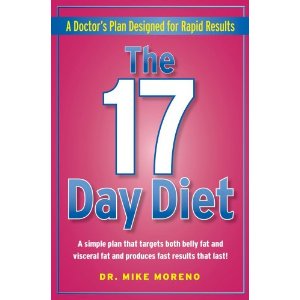 With an advertising hook like that, many people are prompted to ask, "Are these claims wholly accurate?" Most people who have ever been on a diet will tell you that once they lose the weight they wanted to lose, they tended to put some or all of it back on again at a later date. Some even got heavier than they were before they started the diet.

So what is so different and radical about this San Diego doctor's answer to millions of dieters' dreams?

The main thrust of this diet is, in a similar vein to many, to cut out all refined sugars and processed foods from your diet. Most of you are aware of this much so far and it is not anything new.

What is a little different, is the 17 days part of it.

It is not just a diet you do for 17 days then stop, but it is calculated in 4 main phases each lasting 17 days. In other words, you are on the diet for 4 times 17 days, or 102 days in total.

However, even after that time has passed and you have completed the plan as it's laid out, you are encouraged to keep up with the healthy eating cycles that you have gotten used to. It's all planned that way so that you never re-gain that weight you lost anytime in the future.
The Importance of the Duration
So why 17 days? What is the significance of this particular number and why has it been used?

Dr Moreno explains that in general we tend to go in cycles of 21 days where habits are formed.

We become habitual in our dieting after this time and that can lead to a certain amount of lethargy as we get too used to something and it becomes the norm. So by switching things around after 17 days, habits are not allowed to form and we keep our body it peak digestive fitness so that the calories are burned and the weight drops off.

This weight loss diet has reached epic proportions thanks to TV airings on some big talk shows, including The Doctors and the Dr. Phil Show. Videos on Youtube and information of Facebook have helped the website become hugely popular.

The books are flying off the shelves in real world book stores as well as from online book sellers like Amazon.

If you want to read more about how you can get your hands on a copy at a great price from Amazon, you can simply go visit amazon.com and do a quick search.

[BACK TO TOP]

Posted on Mon, 11 Apr 2011 in News | 1 Comments