Oscar winning actor Sir Anthony Hopkins, star of many top movies but still best known for his portrayal of the cannibalistic murderer Hannibal Lecter alongside FBI agent Jodie Foster in Silence of The Lambs, opens up about his recent weight loss secrets.

At the age of a still very young looking 73, the Welsh born actor has managed to shed an astonishing five stones (70 pounds) over the course of the last two years.

So what is his secret to losing so much weight at his age?
Not so Secret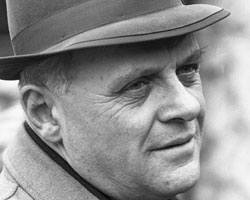 He maintains a rigorous daily workout schedule coupled with a healthy diet plan and has stuck to over those two years to slim down the new figure he now proudly displays to the world.

His wife, Stella Arroyave has encouraged him all the way, which has helped enormously in sticking to his routine. Of her, he is reported as saying,


"My wife's no dictator, but she said I must stick to a regimen. So I'm in the gym six days a week, I power walk, I live on 1,800 calories a day. No pasta. No seconds. A sandwich occasionally."
It is believed that Hopkins has also
taken meat off his diet menu
altogether according to some reports.
Earlier in the year Sir Anthony admitted that for a long time he had actually hated being overweight. Being a reformed alcoholic, whose weight at one point had reached as much as 16 stone (224 pounds / 101 kilos), he confessed,
"I got tired of being heavy. I was addicted to bread, cookies, whatnot. I love all the bad stuff."
One Regret
Hopkins has only one real regret about his weight loss and that is his old clothes no longer fit his new, slimmer figure. He let on that,


"I can't get back into my wardrobe. I gave it all away to some mission."
Hopkins is reported as saying that he would not like to go for the macrobiotic diet that some other stars such as Gwyneth Paltrow have popularized.
He says that one of his great joys is in actually being alive making the most of his fitter and healthier body. That is indeed something we should all aspire to.
Being healthy is, in the majority of cases, a personal choice. We can choose to eat whatever we want and sit around all day doing little or nothing at all. Or we can choose to eat healthily, exercise regularly and enjoy the miracle of life that we have all been blessed with.
At 73, the much loved star is a great reminder to us all that you are never too old to get fit,
lose weight
and improve your figure!
[BACK TO TOP]
Posted on

Thu, 23 Sep 2010

in News |

2 Comments