Look out for another amazing celebrity weight loss shocker, with this story focusing on Drew Carey who stunned the showbiz world with a new slimmed down look that has got the media buzzing!

Now when Drew Carey, host of the popular TV game show, "The Price is Right" shouts out the well-worn and much loved catchphrase: "Come on down," it takes on a whole new meaning. Not only did his weight come on down by a huge amount, but down went his diabetes too!
Come on Down!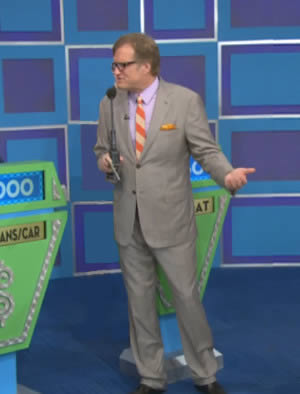 He lost 80 pounds to be exact, starting January this year and he did it the good, old fashioned way with nothing more elaborate than eating a healthy diet and getting plenty of exercise. According to a report in People magazine, the 52 year old TV presenter dropped from a waist size of 44 in pants to a slimmer and trimmer 33-34.

When the popular game show's 2010 season got underway today, some members of the audience were totally astounded when they saw his amazing metamorphosis from an expanding, fat guy into a slim and fit guy.

As part of his new health regime, Carey cut back his diet staying away from simple carbohydrates, while he snacked on fruit and made sure he drank plenty of plain water. On top of that, he hit the gym and worked on his body by doing cardio exercises for at a minimum 45 minutes each day.

But the best was yet to come as not only did Carey lose all that weight, but he also lost the type-2 diabetes that he had developed. "I'm not diabetic anymore," he told People magazine. "No medication needed."

At a party in Beverly Hills last Wednesday, Carey is reported as saying, "It sucks being fat, you know," and he added, "I like being skinny. I was sick of being fat on the camera. Really, I just got sick of it. Once I started losing weight, again, like once I started dropping a couple pant sizes, then it was easy 'cause once you see the results, then you don't wanna stop."
Diabetes No More
Many people are surprised when they hear a one-time sufferer of type 2 diabetes has apparently almost suddenly recovered completely. However, the truth is that one of the major causes of the disease is being overweight and by losing the excess pounds to return to a healthier weight, the symptoms of diabetes are similarly reduced.

The excess weight is not the direct cause of type 2 diabetes, but the physical health impact of gaining that weight generally is. This is where the body develops insulin resistance due mainly to the system becoming overwhelmed by excess sugars entering the bloodstream over a prolonged period of time.

When insulin can no longer effectively remove the excess glucose from the bloodstream, the symptoms of diabetes appear. These include high blood pressure, excessive plaque build-up in the arteries, high cholesterol and triglycerides, leading to a higher risk of stroke, heart attack.

The best way to deal with insulin resistance is to drastically reduce the intake of sugars from sweet foods containing added sugars, refined carbohydrates (white bread, pasta, cakes, cookies etc) and sugary drinks like soda.

[BACK TO TOP]

Posted on Tue, 21 Sep 2010 in News | 0 Comments