After all the alleged bullying from other girls, all the media attention and her personal victory in her battle against her excess weight and dowdy figure, a bikini clad Kelly Osbourne delights in showing off her new slim figure on the cover of the December 2010 issue of Shape Magazine.
Little Red Bikini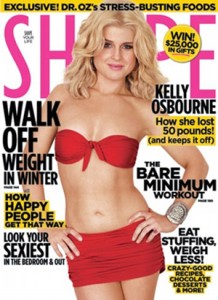 The photo shoot reveals a great looking Ms Osbourne in a red bikini showing the world what she really looks like after her incredible weight loss success story a few months ago following her stint on the TV show, Dancing with the Stars. So how did Kelly Osbourne lose weight?

She said that the change of diet and extra exercise she started doing was the result of advice from her dance partner, Louis van Amstel, who got her to work hard to get her fit for the dance routines they were to be performing in the show.

It meant ditching a lot of the junk food and sweet snacks that she used to eat and instead focus on healthier options that included whole foods, while also working on an exercise routine to compliment the dance moves she was having to learn and perfect.

In the interview with Shape, Kelly told the reporter,


He made me eat turkey burgers and salads and explained to me that a high-protein, low-carb diet would keep me energized. Then I started losing weight and realized, "Oh, it's true what they say: Diet and exercise really work"
Indeed they do, as she is living proof that no matter what you're starting size and weight, it can be transformed by making a few simple changes to what you eat and how much physical activity you get each day.
The New Slim Look
The new skinny Kelly Osbourne is now a size 2 and was quite frank about the way her old look was detrimental to her self esteem. She said that she understood that the way she looked came with the territory of being in the limelight thanks to both being the daughter of a famous rock singer (Ozzy) and appearing in the popular TV dance show.

As I reported in an earlier post, Kelly Osbourne attracted bullies over her weight loss. However, she managed to shrug it off and talk about her problems and her success both in magazine interviews and on TV.

She admitted that she had been overweight most of her life. But now, thanks to her amazing transformation, she was glad to be able to go out into the public arena and not be judged for her excess weight any more, but admired for her great look.

Of course, as you might expect, being chosen to appear on the front cover of a popular magazine like Shape, wearing a bikini, is a pretty good way to feel good about yourself!

[BACK TO TOP]

Posted on Thu, 18 Nov 2010 in News | 1 Comments